Tipi Village
Website update as recent as April 25, 2010
** Couple of New Photos at the bottom **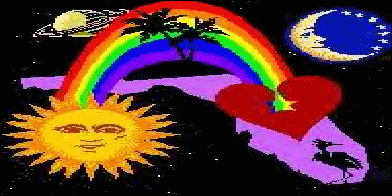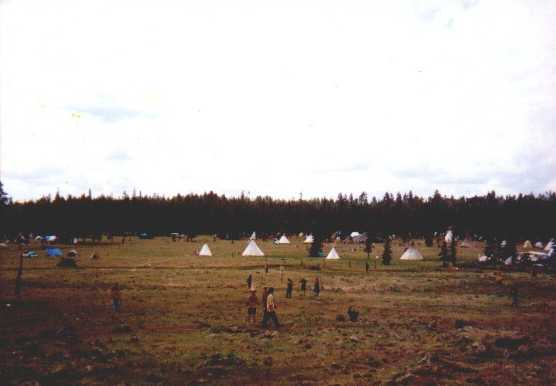 The Tipi Villiage at a National Rainbow Gathering. This was in Arizona in 1998 in the National Forest.
Buying a tipi and i can not tell you where to buy but you use a search engine on your web browser perhaps to find a tipi maker. Most tipi's made out the Western States of the United States. I found ads in magazines like Mother Earth publications, which you can find in your Heath Food Stores that sell organic produce and have a book and Magazine rack or look at book store for outdoor Magazine in ad section for tipi makers.
SOME PEOPLE THINK ABOUT MAKING THERE OWN TIPI. I WAS SUGGESTED NOT TO. MY FRIEND SAID THAT I COULD SPEND AS MUCH TO MAKE IT MY SELF RATHER THAN PURCHASE. HE KNEW I DID NOT HAVE TOOLS OR KNOWLEDGE TO MAKE IT AND GAVE ME THIS VENDORS NAME:
RED SYT TIPIS, 500 MERRIMON AVE., ASHEVILLE NC. 28804, PHONE # 704-258-8417
. I ALSO SAW AD'S IN MOTHER EARTH MAGAZINE SO MAY REFER TO THAT MAGAZINE OR EARTH BASE MAGAZINE. PLEASE IF YOU HAVE ADDITION INFO PLEASE EMAIL IT TO.
Tipifreak@aol.com
If your really thinking about buying or making a tipi i advise that you read the book publish by the Author's Reginald & Gladys Laubin. There book is one of the best informed book on Tipi's how to set up poles, make your own tipi poles, what was cook and receipies and how to cook food in Tipi. Different Tribes Tipi's. and do's and don'ts too tipi construction. The book is call THE INDIAN TIPI. Publisher is University of Oklahoma press. ISBN 0-8061-2236-6
Photo 1: of the man and woman holding hands is Marriage ceromony in my tipi. Mata is Rainbow Sister that passed away from Cancer. Her wish was get married before she meet the Great Sprite above. I miss her much Love you Mata.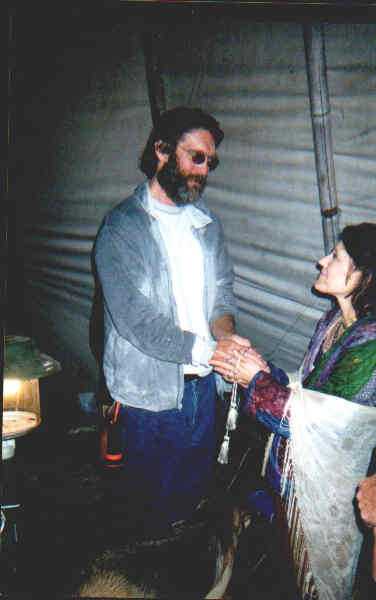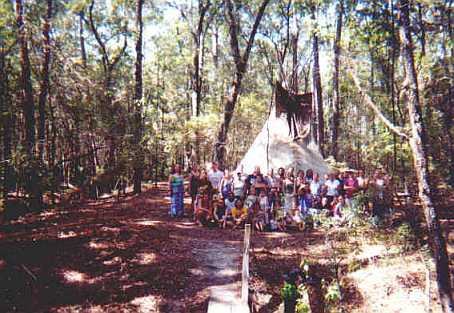 Photo 1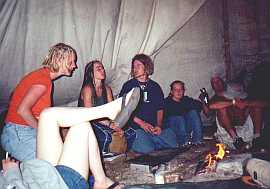 Photo 3
Photo 2
Photo 1 has friends of mine getting married at my tipi at a Rainbow Gathering. Photo 2 has some Vistors that came in to play African and other tribal drums inside the tipi. The photo was taken at an outdoor Concert, Livestock in Zepherhills put on by 98 Rock station in Tampa Florida. I had hope to bring some of Spirit of Woodstock to Livestock which is a smaller Outdoor Concert with weekend camping of 30,000 people. Every year more people get turned on by the tipi. Photo 3 Friends of mine camping at Magfest which is in Live Oak, Florida . Music with bands like Donna and The Buffalo, David Grisman, mixture of music of Grateful dead livestyle bands and Blue Grass. Over 30,000 people camping in North Florida for weekend of music. much like the vibe of first Woodstock gathering. Impact of the 1960's Flower children has not died. You can see Tipis and Hipi School buses are still happing at concerts just like Woodstock 1969.
Photo 5
Photo 4
Photo 4 Tipi's are really cool at night. Many times strangers come walking up to enjoy the fire and bring postive energy to the camp.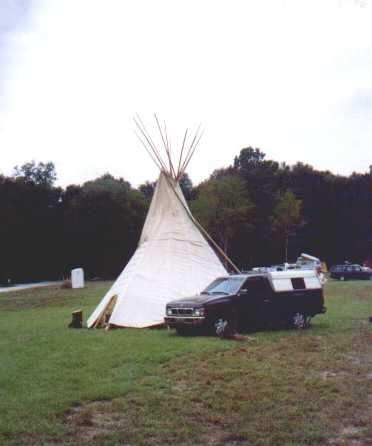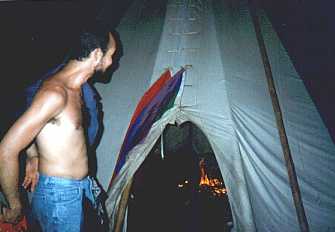 This is my Tipi in Photo 5. Above is 20 feet in the inside about the size of small home's living room and over 20 feet tall. The poles stick above to 25 feet. I have use my tipi for over 6 years. It's got lot praise from many people most ask me how long does it take me to set up, about 1 and half hours. but the none think about the work it takes to take it somewhere or to put it away after i done using it. When i set it up for a weekend fest. it takes the whole weekend just for people to enjoy for a few hours but it's worth it for the smiles. My Tipi should last 10 years with care, repair. and just setting up for special events. The little Nissan Pickup with the White topper is how i transport my Tipi. I get 20 miles per gallon with my RV. Ha ! HA ! and its only RV sometimes. Can't beat the price either. The poles tie up just like you put a Canoe on top of the truck. the Truck 15 feet long and the poles are 25 feet long. if your careful . they will stick out beyond bumper 5 feet on each end. just got put red flag and maybe duct tape one those flashing jogger light on the end of the poles and your ready for the road.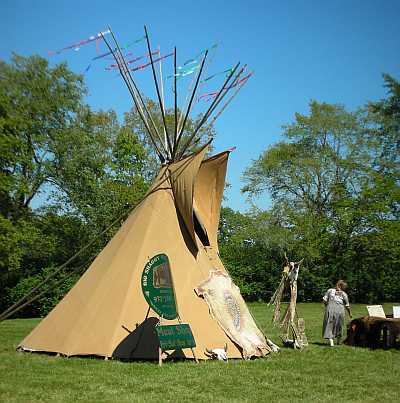 Photos 6 and 7 of Tipi's taken in 1998 Rainbow Gathering sent in by some who likes this website and wanted to improve website. You have photo's please email. Please email to Flickerfeather or forl160637@aol.com or refer to myspace.com/flickerfeather
Photos 8 and 9 are of a Tipi taken in 2007 at the Heritage Festival held in Piqua, Ohio by Carl.
Photo 8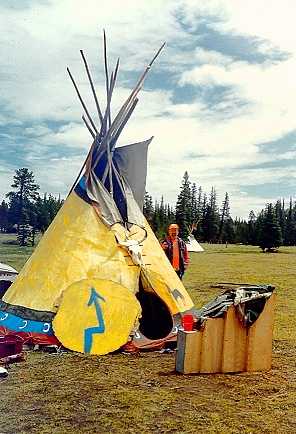 Photo 7
Photo 6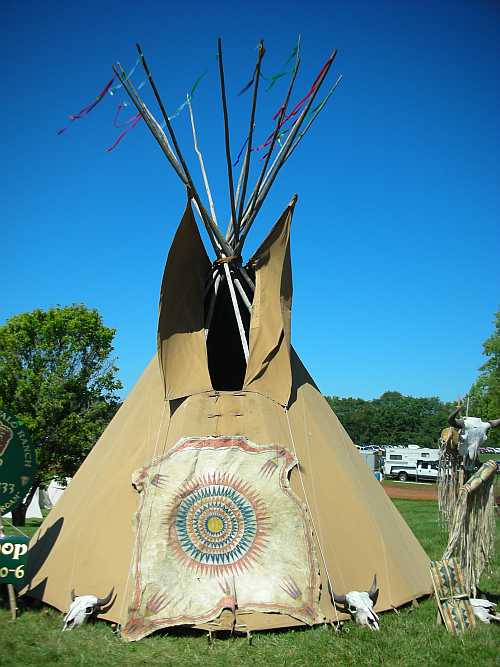 Photo 9